This shop has been compensated by Collective Bias, Inc. and its advertiser. All opinions are mine alone. #SnackItAndPackIt #SeasonalSolutions #CollectiveBias Enjoy your Toffee and Chocolate Drizzled Potato Chips!
Snack Time
Looking for a treat that is sweet, salty, creamy, and crunch all at once? Look no further than Toffee and Chocolate Drizzled Potato Chips!
I was recently at the store, picking up some snack foods to fill our snack drawer. The "snack drawer" is a wonderful thing! I fill it with easily accessible snacks and bottled water so that my daughter knows right where to go when she needs a little something to eat.
These are some of my favorites, and you can actually click on the image to shop: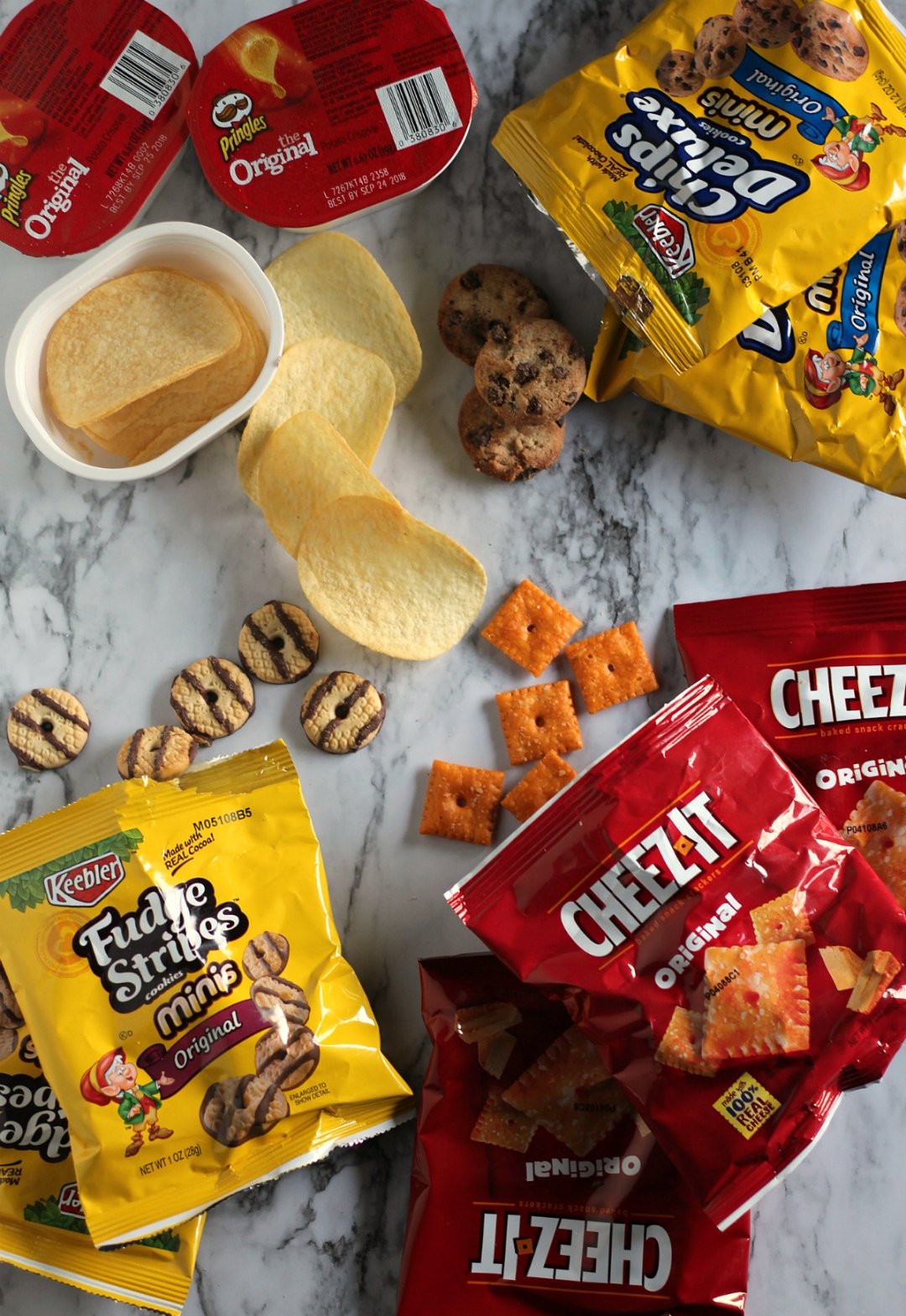 Snack drawer is filled!
Stock Up and Save!
This is a really good time to stock up on snacks because of great offers and limited time special pricing on Pringles® Snack Packs as well as Keebler® Cookie and Cheez-It® Variety Packs at your local Kroger or Kroger banner store. Be sure to grab the coupon linked at the bottom of this post for even more savings!
I purchased the Pringles Original box, Keebler & Cheez-It Variety Pack, and Cheez-It Variety Pack. I shopped at my local Kroger, but you can shop at any Kroger or Kroger banner store. These individual packages are so perfect for on the go snacks or quick lunch box additions.
The Mini Fudge Stripes are my personal favorite. Baked to perfection in the Hollow Tree®, these shortbread mini cookies are striped with delicious fudge made from100% real cocoa. They're great for snacking. Uncommonly Made. Uncommonly Good.®
The Pringles® in single-serve tubs are awesome because you never feel the need to share! Single-size is just that; There's just enough, just for you. This is a total mom-life hack!
For tons of fun snack time inspiration, check out the social hub by clicking here. I found some great ideas that I know my daughter will just love!
Toffee and Chocolate Drizzled Potato Chips
I used two of the Pringles® crisps individual tubs to make a whole batch of Toffee and Chocolate Drizzled Potato Chips:
These treats are so simple and fun to make! I would recommend them for a game day snack, packaged in little bags for holiday gifts, or presented on a pretty platter at a party.
When making the toffee for this recipe, please be extremely cautious. The candy is so hot and every precaution should be made to prevent it from getting on your skin. The toffee making and drizzling portion of this recipe is not safe for children. If you'd like to involve your kids, they'll have fun drizzling the chocolate onto the toffee chips!
You will drizzle the hot toffee onto the chips with a spoon, but I recommend piping the chocolate using a zip top bag with the corner cut off. I drizzle the chocolate one direction then switch to another angle. There's no need to worry about perfection!
I would also advise you to test the toffee before finishing the cooking process. I did this by spooning a tiny bit onto some waxed paper and letting it set for a minute. It should not remain soft, but instead should become brittle and crack when you bend it.
Print
Toffee and Chocolate Drizzled Potato Chips
---
Author:

Prep Time:

30

Cook Time:

20

Total Time:

50
Ingredients
24 Pringles Potato Crisps (Original flavor)
1 cup butter
1 cup sugar
2 teaspoons vanilla extract
2 tablespoons vinegar (apple cider or white vinegar)
1/2 cup semi sweet chocolate chips
1 tablespoon coconut oil
---
Instructions
1. In a medium sauce pan, heat the butter, sugar, vanilla, and vinegar over medium-high heat, stirring occasionally, until the mixture is a golden amber color and reaches 320 degrees F. This takes 10-15 minutes.
2. Line a cookie sheet with parchment paper. Place the Pringles crisps on the parchment paper, but not touching. Very carefully spoon the hot candy mixture onto one half of one side of the crisps. Use caution and do not get the very hot candy on your skin!
3. Set the candy drizzled crisps aside to cool and set.
4. In a microwave safe bowl, heat the chocolate chips in the microwave in 30-second increments until melted. Stir in the coconut oil until melted.
5. Pour the melted chocolate into a zip top bag. Cut off a tiny bit of the corner of the bag, then drizzle the chocolate over the potato crisps.
6. Refrigerate the crisps for 10 minutes, or until the chocolate is set.
7. Serve the crisps immediately or store in a sealed container until serving.
Nutrition
Serving Size:

24

Calories:

293

Sugar:

11

Sodium:

15

Fat:

9

Saturated Fat:

6

Unsaturated Fat:

3

Trans Fat:

0

Carbohydrates:

49

Protein:

5

Cholesterol:

21
Recipe Card powered by
Click here now for coupons from Kroger to save on Keebler, Cheez-It, Pringles, and Kellogg's Rice Krispies Treats variety packs!