This shop has been compensated by Collective Bias, Inc. and its advertiser, Mars Wrigley Confectionery US, LLC. All opinions are mine alone. #SpringMoments #CollectiveBias | 99 Easter Basket Ideas for Kids Plus Free Printable
The Hunt Is On
Isn't Easter one of the sweetest holidays? I am a big fan of the Easter Bunny visits, fun basket surprises on Easter morning, egg coloring, egg hunting, special church services, pretty Easter clothes, a big family dinner, and everything else wonderful that goes along with the celebration of the holiday.
I don't know about you, but for me, The Hunt is On! It's the hunt for the best Easter treats and surprises for my little one. If you're in the same boat of Easter spirit, this post is for you! I'm sharing 99 Easter Basket Ideas for Kids Plus Free Printable of adorable little Easter Bunny footprints. You're going to love this!
It's Candy Time!
Candy is just a must at Easter time. I picked up some of our favorites at Sam's Club recently: M&M'S® 62oz. Pastel Peanut Chocolate Candy Bag and Mars Chocolate Spring Mixed Minis Bag. Click on the links in this picture for details and to purchase now: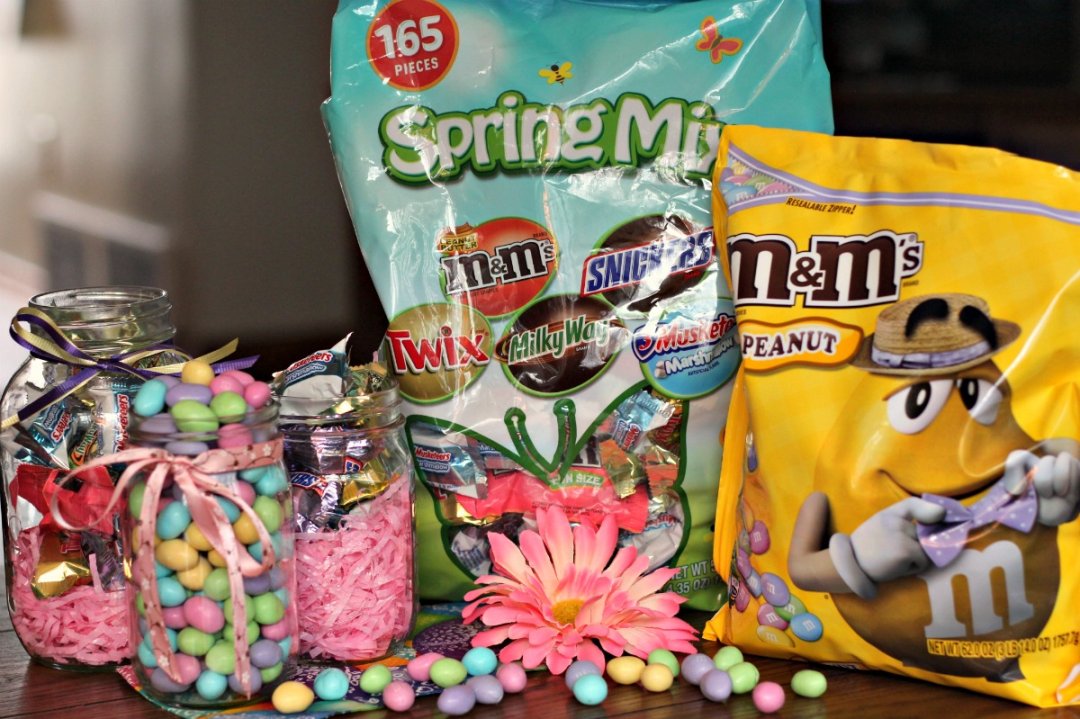 Being a Sam's Club member has so many benefits, and I consider the ability to purchase a 64 ounce bag of M&M'S® to be a big benefit! M&M'S® in pretty pastel colors are just perfect for Easter baking, decorating, and filling colorful Easter eggs. I love to set out a bowl of M&M'S® for Easter snacking throughout the holiday weekend.
Mars Chocolate Spring Mixed Minis is your one stop for all the Easter candy you need to stuff those eggs! All of your favorites are in this one big bag
I love serving Easter candy in jars. So pretty!
Free Easter Bunny Footprint Printable
In my house we have a cute little Easter morning tradition. When my daughter wakes up, she finds a trail of Easter bunny footprints that lead to her basket. It's so fun and exciting!
Well, last year I almost didn't find any bunny footprints to use. I hear you can use flour to make dusty footprints on your floors, but really, who wants that mess to deal with?!
I drew up my own little bunny prints and edited them to add some pink pads. Perfect! Now I can print them myself every Easter and not be concerned with buying them. I'm also excited to share this tradition with you!
I recommend you print using a high quality color printer and glossy light weight card stock. After they're printed, just cut out the prints with scissors and place them on the floor to create a trail leading from your child's room to their basket. The little ones will be delighted!
Download the printable here: Printable PDF | Printable JPG
99 Easter Basket Ideas for Kids
It can be a challenge to think of items for your kiddo's baskets. So here is a list of 99 Easter basket treats!
Easter Themed
Bunny ears
Easter hat or headband
A tie for Easter
Party poppers
Fun socks
Children's Bible
Easter themed books
Easter coloring and activity books
Stuffed animal (a chick or rabbit would be perfect for Easter!)
Easter eggs filled with small toys
An Easter card from you
A letter from the "Easter Bunny"
For the Kitchen
Matching plate, fork, spoon, and knife set
Cookie cutters
Measuring spoons/cups and kids cooking/baking tools
Kids kitchen apron
Water bottle or sippy cup
Inside Play and Crafts
Board or card games
"Coupons" for special privileges at home
Harmonica
Glow sticks
Window clings
Window markers
Magic trick set
Trucks and cars
Small wooden train and wooden train tracks
Yoyo
Finger puppets
Small decorative pillows
Small plastic animal toys
Army men action figures
Kinetic sand
Modeling clay
Play dough or slime
Blocks
Movies
Puzzles
Small dolls
Kids tool kit
Craft kits
Coloring books
Crayons, markers, colored pencils
Finger paints or watercolor paints
Paint brushes
Stickers
Mini scrapbook kit
Stamps
Mini chalkboard with chalk
Outside Play
Kite
Jump rope
Silly string
Frisbee or ball
Sidewalk chalk
Bubbles
Inflatable kiddie pool
Sandbox/beach toys
Pool/water toys
Fun beach towel
Mini flower garden kit
Fruit, vegetable, and flower seeds
Kids gardening tools and gloves
Activities and Experiences
Tickets to a movie or special event
Membership to zoo, theme park, water park, museum, or kids play place
Gift cards
Money
Registration for dance, music, or gymnastics class
Registration for a sport or private coaching/lessons
Reading and Education
Science set
Joke book
Book light
Board books
Chapter books
Book marks
Mad libs books
Flash cards
Clothing and Grooming
New outfit
Purse
Flip flops
Slippers
Bath bombs
Tooth brush and tooth paste
Tooth Fairy pillow
Fingernail stickers
Bath gel and lotion
Manicure/pedicure kit
New pajamas
Hair accessories
Nail polish
Lip balm
Bath crayons/paint and toys
Fun band aids
Jewelry
A hat
Sunglasses
New rain boots
A raincoat
An umbrella
Swim suit
And number 99 is… CANDY! Pick up M&M'S® 62 oz. bag and Mars Chocolate Spring Mixed Minis at Sam's Club and you're all set!
Have a wonderful Easter filled with every good thing!