This is a sponsored post written by me on behalf of Tide® HE Turbo Clean™ for IZEA. All opinions are 100% mine.
I've written in other posts quite a bit about how to save money on children's clothing. It can be such a big expense for families, so it's important to be wise and look for great deals.
There are two other pieces to the puzzle of saving our families money on clothing:
Re-purpose old clothing
Care for your clothing properly to maintain it longer
Here's a little video where I show my new favorite hair style for my daughter which includes me using an old shirt as hair ribbons:


Have you gone high-efficiency with your washer and dryer yet? Here is some info I found super interesting: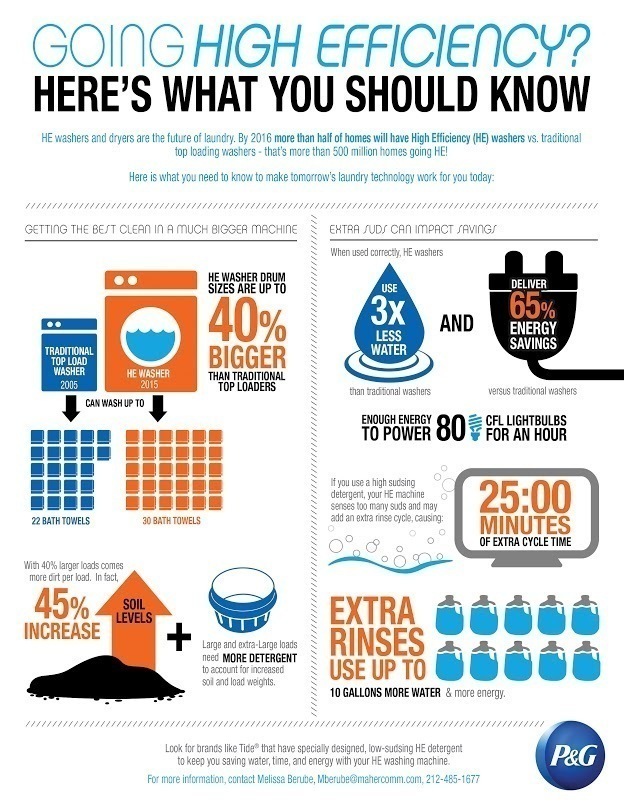 With a young child (plus two adults) in my house, the laundry is never completely finished! There is always something dirty in the laundry basket… or a pile of many somethings dirty… or piles… Anyone else feel this way? Laundry is never ending!
I was really interested to learn that HE washing machines have 40% larger drums (vs. traditional machines) and can wash up to 32 pounds of laundry. The time savings for most families would be really significant!
When moving to a HE washing machine, you'll need to use the right type of detergent to get the best results. Tide® HE Turbo Clean™ is a great option! It saves time by making the laundry process more efficient.

I absolutely love this Whats Up Moms video about a group of moms who are conquering the laundry room with Tide® HE Turbo Clean™:
What's Up Moms
Tide® HE Turbo Clean™ detergents have a proprietary, quick-dissolving Smart Suds™ technology that helps prevent HE Machines from running additional rinse cycles. This saves energy and time! It can save you up to 25 minutes of cycle time, which really adds up when doing laundry for a family.
Tide® HE Turbo Clean™ is available in Tide® liquid detergent, Tide Pods® pacs, and Tide® powder formula.
Recycle, Reuse, Re… Make!
Old clothing can be re-purposed into many things: pants can become shorts, almost anything can become cleaning cloths, soft clothing can be sewn into quilts, and today I turned an old shirt into hair accessories for my daughter and me.
Shirt with holes in the front (small, but very noticeable when worn):

Cut the fabric into strips with scissors:

Tie two strips at the end to make a long strip of fabric:

Wrap the fabric around your head twice and tie at the back (easier to do with your hair pulled up. Then take it down once the wrap is all set):

For a different look I twisted the fabric, wrapped it from the back of my head straight up and then gave it a twist before wrapping it down towards the back of my neck and tying it to secure:

I think this homemade headband is adorable on my daughter too!

Do you have a HE washing machine or do you wish you did?